National Mills Weekend 2013
Saturday 11th and Sunday 12th May 2013
"National Mills Weekend is the annual festival of our milling heritage and provides you with a fantastic opportunity to visit mills, many of which are not usually open to the public."
When I heard about this weekend being National Mills weekend I decided to look for some wind mill inspired activities and to find my local windmill. It seems my local museum is putting on an event for children to learn about windmills, I think this is a good learning experience and will definately consider visiting (although there is a charge).
Here is some windmill craft activities I found that look good.

Toilet roll windmill
Toilet roll windmill from mybad.com
2.Oragami windmill
This site give you folding instructions and demonstrates two ways to display the windmill on a straw or a cup.
I think this activity would need alot of support but worth it in the end.
4. Lollipop sticks and toilet roll windmill
from crafty family tree.
This is similar to the previous toilet roll project but with lollipop sticks for the blades.
5. Windmill pottery
I recently bought some porcelain plates and pens to decorate it so when I saw this I thought what a nice idea. To keep as a collection or a gift. You could also decorate cups, coasters and fridge magnet tiles. If you visit a mill then this would be a lovely way to capture the image.
6. Iron on windmill design
This could be used to create a T-Shirt or even to create an embellished picture. You could also adapt this design and make it with lentils, buttons or even sweets.

7. Milk carton windmill
This looks really good but I'm not sure if I could master it.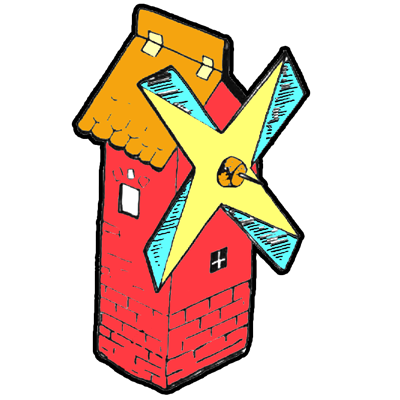 8. Windmill gift box
This could be adapted in may ways using different material such as fabric, foam, felt even cardboard.
9. Ice cream cone windmill
Looks yummy and easy/ quick to do.
I am sure you could cheat and buy a christmas log or swiss roll and ice it, then decorate.
I think this looks good and again can be adapted for age and ability.
I think this would take a long time and be very fidley but a childs interpretation would probably look really good.
The site shows how to use the plastic to make these simple but fun pinwheels.
There are many pieces of art children can copy the style from. I thought this one looks particularly easy to re-create.
This looks like it should actually move in the wind . You could make different variations and conduct a size experiment comparing blade size.
Cute little model to use in 'small world play'
Not sure what pieces you would need to replicate this, maybe the site shows you.
This activity relies on pupils reading expressive writing and creating and image. You could also use it to do a shapes match design where they copy the image by placing shapes in the correct place.
22. Playdoh windmill
23. Styrofoam windmill print
24. Potato stamp windmill
25. Design a stamp.